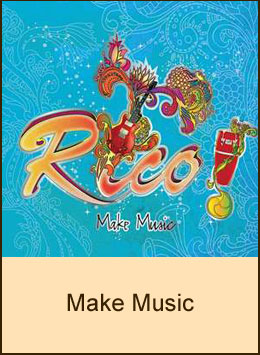 Make Music was created to bring everyone together. If you are into musicians expressing themselves on their instruments, if you enjoy dancing, if you enjoy different rhythms, if you enjoy nice vocals, well this is an album that you should have in your library. Soaring guitars, pulsating afro-cuban rhythms are the common thread that connects the eclectic palate of the Rico Band.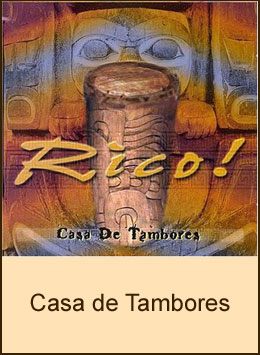 Casa De Tambores (House of Drums) is a cd designed to bring you into the house of Afro Cuban rhythms. The frame can be rock, funk, salsa, jazz etc, but the foundation is always African. Inspired by the work of Santana, Miles, and others, Rico lay down their.music following their influences sense of melody and rhythm while putting their own stamp on a new sound in Latin Rock or World Music.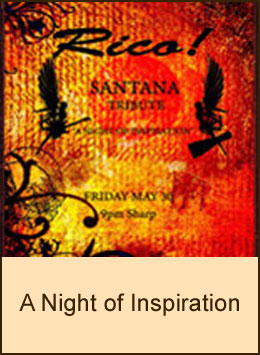 A Night of Inspiration is a celebration of the positive spirit and vast body of work that Carlos Santana has produced over his career. The DVD captures Rico performing Santana music from the Santana's "Soul Sacrifice" to the Supernatural era's "Smooth". With over three hours of performance captured at the beautiful Copernicus Theatre in Chicago, this is a true testimony to the Rico Bands ability to deliver live. This is a one take performance that includes an insightful interview with Ricky Rico Baker and testimonies from some of our fans.
About Our Albums
Click on the plus sign below to read more about each album:
Make Music
Rico Ricky Baker: Guitars and rap vocals
Joe Rendon: Congas, bongos and percussion:
Jesse Tobias: Bass
Jaime Claudio: Timbales
Devin Thompson: Vocals
Charlie Hunt: Vocals – tracks 2, 3, 4, & 9
Ben Lewis: Keyboards
Vija Tellis-Nayak: Keyboards – tracks 2, 5, 6, 8, 10, & bass track 10
Chris Miskel: Drums – tracks 1, 2, 3, 4, 9 & 12
Tony Taylor: Drums – tracks 5, 6, 7 & 10
Engineer: Vija Tellis-Nayak
Mixed by: Vija Tellis-Nayak except "Don't You Get THis" recorded at Steve Ford Music, Chicago, IL
Engineer: Alejandro Valencia
Mixed by: Alejandro Valencia
Mastered by: Trevor Sadler at mastermind Productions, Milwaukee, WS
Executive Producer: Ricky Rico Baker
Producer: Ricky Rico Baker
All songs written and arranged by Ricky Rico Baker except "Eye on the Prize" written by Ricky Rico Baker and Henry Grisby Jr. & "Percussion Conversation" written & arranged by Joe Rendon & Jaime Claudio. All songs recorded at Transient Sound, Chicago, IL. Ricky Rico Baker uses Paul Reed Smith Guitars exclusively. Joe Rendon uses LP percussion exclusively. Jesse Tobias uses John Hewitt Basses exclusively.The Rico Band would like to thank God, our families, friends & fans for their unyielding love, loyalty & support throughout the years.
Casa de Tambores
Rico Ricky Baker: Guitars and rap vocals
Joe Rendon: Congas
Jesse Tobias: Bass
Jaime Claudio: Timbales
Tony Taylor: Drums
Tony Orant: Keyboards
Tony Alvarez: Vocals
The Rico Hotline: 630-415-2010